After being on the look-out for an awesome pair of Winter boots, I finally found an amazing pair. Well, actually, I am quite sure they found me and thank God for that. Since I've had boots on my mind for the past few weeks, I found that trendy boots these days are far from boring and come in nearly every color and height. The trick with boots is to find something that is complimentary to your everyday style. For me, it was really hard to find a pair of dark & edgy boots without looking like a I was about to hop on a Harley.
Here are some of the treasures I found, including the boots that found me!
Levis // Conductor Buckle Boots // $50
Zodiac Leather & Suede // $75 // Size 6
Modcloth.com // BC Shoes // $140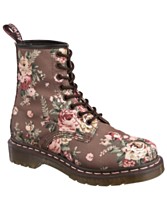 Dr. Marten's // 1460 Floral Boot // $130
Laredo Cedar Boot // $100
Now get out there, Toot It & Boot It!